Islamabad, one of the most beautiful capitals in the world, is heaven for foodies! The capital of Pakistan is home to all locals and foreigners working here as diplomats or for business, or studying in top-notch universities.
Islamabad's eatery places have shaken up the restaurant industry of Pakistan. There is a diverse range of restaurants in Islamabad. From desi to continental and from Asian to Indian, food lovers can find the place of their hearts to enjoy the yummiest food.
You can also enjoy the super tasty, delectable and flavorful food in other metro cities of Pakistan like Peshawar. Read more in our blog, famous restaurants in Peshawar.
With the spat of exciting new diners and cafes, the capital has become true heaven for all food cravings. So what are you looking for desi restaurant in Islamabad or some cheap restaurants to satisfy your craving for taste? Because choosing one can be quite overwhelming and ends in the worst result.
Worry not! Realtorspk.com has penned down a list of the best restaurants in Islamabad which suits the taste of everyone. So you can plan your next meal journey in the capital conveniently. Also read blog on best hotels in Islamabad.
List of 10 Best Restaurants in Islamabad:
| Restaurant | Rating | Contact | Location |
| --- | --- | --- | --- |
| 1. The Monal | 4.5 | 051 2898055 | Pir Sohawa Rd, Islamabad |
| 2. Café 1969 | 4.3 | 0323 9691969 | Garden Avenue, Shakarparian |
| 3. Ox & Grill | 4.5 | (051) 2650792 | Jinnah Super Market, F-7 |
| 4. Howdy Islamabad | 4.2 | (051) 2611182 | Gol Market, F-7 |
| 5. Asian Wok | 4.1 | (051) 2206988 | Beverly Centre, Blue Area |
| 6. Rakaposhi Islamabad | 4.1 | (051) 2723085 | Ramna 5 Khyaban-e-Suhrawardi |
| 7. Tuscany Courtyard | 4.1 | (051) 8445544 | Kohsar Market, F-6, Islamabad |
| 8. Zamana Café | 4.1 | 051 2874000 | Islamabad Serena Hotel |
| 9. Yum Chinese & Thai | 4.3 | 0311 1122102 | F-7, Islamabad |
| 10. Haleem Ghar | 4.2 | 051 111 425 336 | Ginza Center, Ground Floor، Jinnah Ave, Blue Area |
1. The Monal:
Beautiful Margalla hills surround Islamabad, and it is impossible for natural lovers to eat out and miss the beautiful view of the mesmerizing hills. The Monal Restaurant is famous for many reasons; one is its popularity as one of the best view restaurants in Islamabad. On a lovely sunny day or a cool night, you can enjoy the food with a picturesque view. There are numerous places to visit in Islamabad but Monal is one of the best place to eat and enjoy the beauty of capital.
The Monal restaurant is located at Pir Sohawa, where you can enjoy a variety of national and international cuisines while enjoying the surroundings. The diners can dine inside the restaurant or on one of the seven large outdoor terraces.
Coming to the cuisines, one can enjoy local, Arabia, Persian, Central Asia, French, Italian and other Continental dishes. It is one of the best desi restaurants in Islamabad. However, every food item tastes excellent, yet you can enjoy the signature taste in foods like BBQ, Karachi, Stir Fry Khao Suey, wasabi sandwiches, kebab, etc.
2. Café 1969:
Are you looking for some family top restaurants in Islamabad? Have you ever wondered about visiting the history of Pakistan while eating delicious food? Café 1969 is the answer to both. Second, on our list, Café 1969, is one of the best cafe in Islamabad that takes the visitors back to the 60's time.
The era of the 60s demonstrates the development of Pakistan. Inside the restaurant, you will find a style with marvelous hues, crystal glass fixtures, and botanical theme hangs, etc., which depicts the era. Café 1969 is located in a beautiful place near Lok Virsa Islamabad and along with the view, you can enjoy scrumptious desi food and tantalizing continental items of your choice. The visitors love to discover the best scenic tourist areas and mesmerize history by visiting historical landmarks and museums in Pakistan.
The view, environment and menu all-in-all make it one of the best family restaurants in Islamabad at a sensible price.
3. Ox & Grill Restaurant Islamabad:
Ox & Grill restaurant Islamabad is one of the top restaurants in Islamabad, offering something extra to the foodies. If you desire to enjoy something extra mouth-watering and tempting, you can satisfy your cravings with OX & Grill Steakhouse Islamabad. The variety of burgers and steaks with various options to enjoy the Pakistani, Mexican, Chinese and Thai Cuisines make it one of the best restaurants of Islamabad.
Photographers and visitors are attracted by the variety of cuisines and adorable interiors. The photographers adorn the restaurant walls as soon as they enter the eatery. You will find a friendly and professional atmosphere inside and feel welcome throughout your visit. The steakhouse offers complimentary garlic bread to the guests so they can wait happily until the food is served.
4. Howdy Islamabad:
Talking about fast food and steak restaurants Islamabad and leaving the all-famous Howdy behind is impossible. Howdy is one of the best fast food restaurants in Islamabad, in Gol Market. The place is thematically designed and quite nice. Once you lay foot inside the restaurant, you will enter into the world of the American-Mexican Cow Boy's era. The walls are decorated with images and relevant masterpieces depicting the culture, and the food offers authentic Mexican taste. In addition to that, you'll also find the best parks in Islamabad around Howdy
Texan Steaks, rotisserie chicken, Rango Tango Burger or beef grill steak, enjoy any tantalizing item from their menu and enjoy the yummiest fast food of your life. Howdy's exclusive taste and thematic interiors make it unique in many Islamabad restaurants.
5. Asian Wok:
Asian Wok is a new restaurant in Islamabad by the founders of renowned Monal. The restaurant has recently opened in Blue Area Islamabad and has become one of the best restaurants in Islamabad for its authentic Chinese and Thai cuisine. If you love to eat Chinese or Thai food from time to time, Asian Wok will become your favorite place forever. Also read our blog about restaurants in Peshawar.
The visitors are mesmerized by the setting as you will be greeted with a little waterfall at the entrance. The interiors are top-notch and attractive. The sitting area is peaceful and quiet so that you can enjoy food comfortably.
Many features make it one of the top restaurants in Islamabad. Aesthetics, complimentary mint drinks and savory Chinese and Thai taste make it one of the best restaurants in Islamabad for dinner.
The diners are impressed with the variety of Thai and Chinese cuisine; lobster, roasted duck and golden silk prawns are the yummiest seafood options. You will rarely find these items with authentic taste in any Islamabad restaurants. However, the exclusive item, top-notch service and sitting make it clear that it is not among any cheap restaurants in Islamabad. Yet, for authentic and tantalizing Thai & Chinese cuisine, one can pay a little higher sometimes.
6. Rakaposhi Islamabad:
The impeccable restaurant of Islamabad is located at the renowned Serena Hotel guest house. It is one of Islamabad best restaurants offering an excellent place to enjoy tasty food and quality time with your friends, family, and loved ones. It is a desi restaurant with a Pakistani traditional decoration theme and authentic desi taste. The limestone ground, illuminations, red controlled project and copper make it an attractive place to sit and enjoy.
Anda ghotala, cheeseburger, or roll paratha, every item is equally mouth-watering and tempting. Along with desi variety, you can also enjoy snack bar variations, deep-fried tartlets, and numerous tingling and delicious appetizers.
7. Tuscany Courtyard Islamabad:
Looking for a hi tea restaurant in Islamabad? Tuscany Courtyard is one of the most popular Islamabad restaurants for Italian cuisine. The Italian eatery is located at Kohsar Market, F-6 Islamabad and offers an outdoor street café environment along with a rooftop courtyard vibe. The restaurant's interiors present the inside of Italian designs with wide paned windows and gentle hues of beige and terracotta.
The restaurant has moved to Kohsar Market recently, offering a choice to enjoy food indoors or outdoors. Outdoor sitting is the perfect choice for those who want to enjoy the view of Margalla while enjoying their delectable Italian meal.
Tuscany is one of the top-notch restaurants Islamabad that offers the best Italian cuisine in Pakistan and a variety of dishes that burst with tempting flavors. The chef ensures to make every item with fresh ingredients so the diner can devour every bite with entire satisfaction. Although every item on the menu is irresistible and tempting, most people love the Wild Shiitake Mushroom Steak, Thai Spicy Chicken, Avoca & Shrimp Salad, Hot fudge skillet brownie and butter brownie.
8. Zamana Café Islamabad:
The tempting café is located in the Serena Hotel Islamabad. The restaurant is known for its diverse variety of foods, tasty buffet, and tantalizing a la carte menu. The visitors enjoy the fantastic dining experience, which perfectly combines continental flavors with Pakistani culinary delicacies. Also checkout the best marquees in Islamabad.
The diners can enjoy delicious food while enjoying the lovely view of the hotel's garden and water pool. Choose your favorite Pakistani cuisine from the a la carte menu. Want to have a significant and tasty full buffet with loved ones? Visit the Zamana café, Islamabad, for lunch and dinner buffet variety available for both indoor and outdoor dining experiences.
On Sunday, you enjoy a complete pack variety of Thai, Chines, Japanese, Chinese, Italian, Western, and Middle Eastern foods in Sunday Brunch. There is also an option to order live dishes from chefs at cooking stations, with food delivered right from pan to plate.
9. Yum Chinese & Thai Islamabad:
Yum, Chinese & Thai Islamabad is one of the renowned restaurants in Islamabad. At Yum restaurant, you will find authentic Thai and Chinese food served in a welcoming and warm environment. The visitors can enjoy authentic food with an outstanding rooftop view of the city. The food is available on a diverse menu and caters to the taste of modern and traditional meals from Thai and Chinese cuisine lovers.
Everything in the restaurant, from food to the environment and entire service, is top-notch and beats any grand food chain in the capital of Pakistan.
10. Haleem Ghar: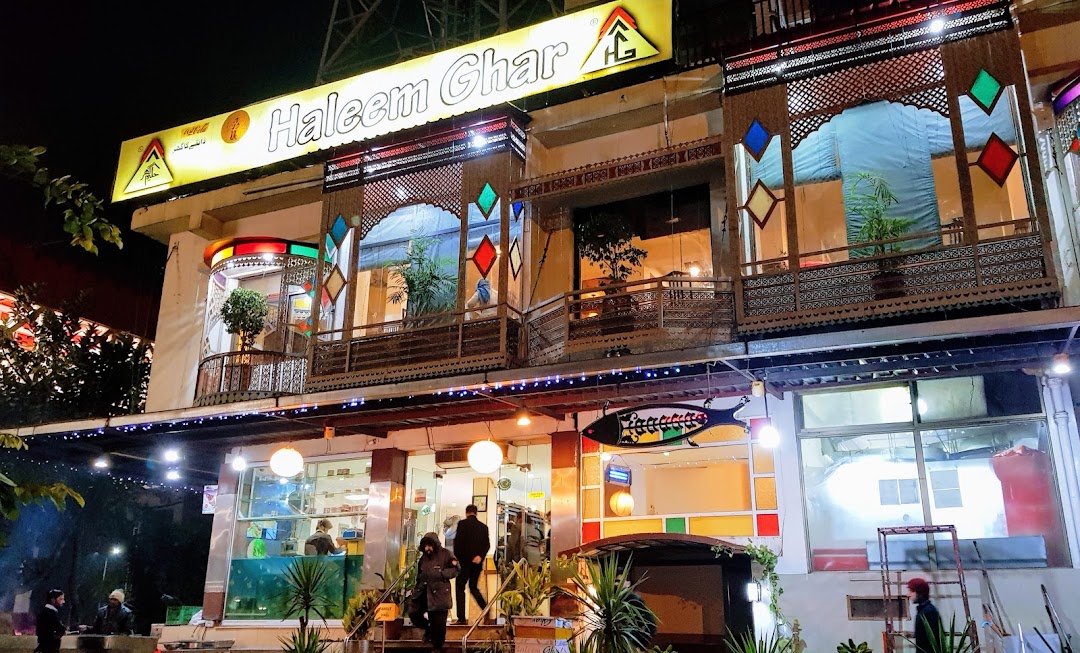 Are you in love with spicy Pakistani cuisine offering authentic traditional taste? Haleem Ghar will become your first choice to satisfy your spice cravings and authentic taste. Piping hot Haleem garnished with aromatic fried onions, fresh coriander, lemon, and masala. Find it all at any branch of Haleem Ghar in Islamabad and Rawalpindi and enjoy the best traditional food of Pakistan.
Haleem Ghar has been serving its customers for decades, and the menu is full of the traditional variety. You can enjoy the diverse menu of Haleem from classic to Shahi, enjoy the traditional Haleem and rice, or go for some spicy biryani.
Enjoy the special Faloda loaded with nuts, sprinkles, jellies, and ice cream to satisfy your sweet tooth and make the food time memorable.
Let's wrap:
So that's all for now from our delicious food talk. We hope you know which restaurant from these Islamabad best restaurants to choose to satisfy your cravings. Stay tuned to realtorspk.com for interesting information and facts about Pakistan and real estate. Also visit some of the best shopping malls in Islamabad.
Read more related blogs: