Islamabad, the capital of Pakistan, offers breathtaking and mesmerizing views to everyone. The capital's beauty has been admired by everyone all over the world. Therefore, it always stands in the world's top 3 most beautiful capitals.
The city is known for many reasons, for instance, the ultra-modern infrastructure, peaceful & scenic environment, beautiful places to visit, and of course, the delicious food variety.
Islamabad restaurants are known for tantalizing and mouthwatering food and excellent services. You can enjoy continental to desi food & from Asian to Indian dishes in one place.
Food lovers often visit one of the food streets in Islamabad and get crazy with the numerous restaurants and cafes Islamabad and the diversity of food offering an authentic taste. For more details, please read our blog on the best restaurants in Islamabad to know about famous eateries in the city.
List of 10 Best Cafes in Islamabad:
Are you looking for one of the good cafes in Islamabad or any attractive place to hang out with friends while enjoying your scrumptious food? Would you prefer if that eatery offered authentic coffees and a variety of delightful foods? Do you want to enjoy the view and food in an outdoor café in Islamabad? With numerous choices at hand, it is pretty challenging to find the best cafes in Islamabad.
Worry not if you are nodding in yes! Realtorspk.com has gathered a list of Islamabad cafes that are not just famous but also offer a complete package of the pleasant atmosphere and innovative interiors apart from their signature delicious taste.
Apart from cafes and restaurants, many hotels in a city are known for excellent services and tempting food flavors. Please read our blog on the best hotels in Islamabad for more details.
If you are going to metro cities like Karachi and Peshawar, you might find our blog restaurants in Peshawar helpful in your search for authentic food places.
Getting back to where we started, let's look at a few of the best cafes in Islamabad that can satisfy your quest for authentic food and signature coffee.
| | | | |
| --- | --- | --- | --- |
| Café Name | Rating | Contact | Location |
| 1. Chaaye Khana | 4.2 | 051 8312193 | Shop # 11, Block B United Bakery Plaza Supermarket F-6 Markaz |
| 2. English Tea House | 4.3 | 051 2609361 | Street 16, F-7/2, sector F-7 |
| 3. Quetta Tea N Teas | 4.3 | 051 2112777 | Margalla plaza, ground floor, Sumbal Rd, F-10 |
| 4. Street 1 Cafe | 4.2 | 051 2823431 | Street 10, F-6/3 |
| 5. Coffee Planet | 4.1 | 051 4938081 | Mir Chakar Khan Road, I-8 Markaz |
| 6. La Montana | 4.2 | (051) 2898226 | Margalla Hills، 9 KMs, Pir Sohawa Rd, Islamabad |
| 7. Gloria Jeans Islamabad | 4.2 | (051) 2610811 | Gol Market, Street 8, F-7/3, Islamabad |
| 8. Em En café | 4.1 | (051) 2203636 | Ground Floor, Block 5E, Super Market, Em En Caffè, Markaz, F-6, Islamabad, 44000 |
| 9. Loafology | 4.2 | (051) 2804240 | 108-W Jinnah Avenue،، Block I G 7/2 Blue Area, Islamabad, Islamabad Capital Territory 44000 |
| 10. Burning Brownie Islamabad | 4.2 | (051) 2814300 | Beverly Centre, Shop #66 F6، 1 Nazim-ud-din Rd, F 6/1 Blue Area, Islamabad Capital Territory 44000 |
1. Chaaye Khana:
Have you ever thought traditional Chaaye dhaba could be revolutionized in modern tea café? Chaaye Khana is one of the biggest examples of this revolution. Whether you are a fan of desi food and breakfast or in love with western and continental cuisine, you can easily find the tempting dish on the menu of Chaaye Khana.
For its iconic atmosphere, excellent services, and tempting tea and food, chaaye khana has become one of the best cafes in F6 Islamabad.
As evident by its name, the café is quite famous among tea lovers as one of the best cafes in Islamabad, who love its wide selection of exotic tea and coffee.
The café branches are found throughout Islamabad and Pakistan, and being in F-6, Markaz has become a popular breakfast eatery in the capital. The area is known for many reasons, and one of them is the beautiful real estate projects in Islamabad. For details, you can read our blog on the best real estate projects in Islamabad. Apart from desi and continental breakfast items, the menu includes burgers, sandwiches, wraps, and steaks, apart from a variety of desserts & beverages. The modern Tea café also offers excellent services to celebrate a special occasions and is known as one of the best cafes in Islamabad for birthday celebration.
2. English Tea House: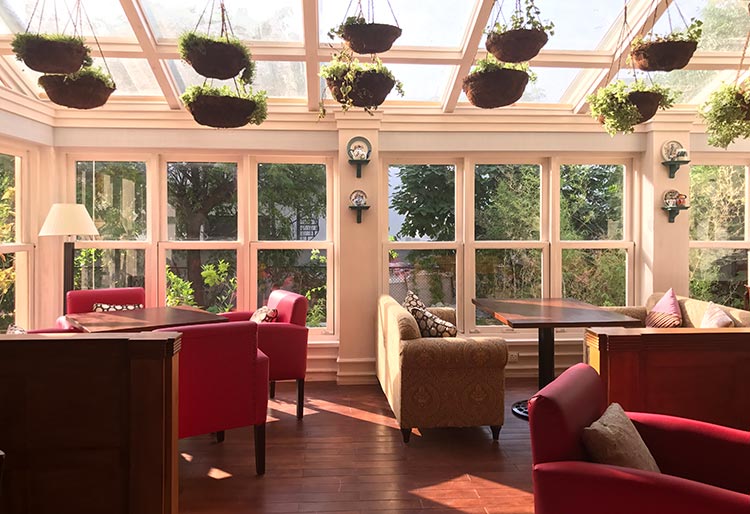 English Tea House, popularly known as ETH, was established as a small bakery in 2010 and soon became one of the best cafes in Islamabad. It is one of the Islamabad cafes that are winning the hearts of every visitor with its high-quality food, beverages, and dining experience. The cafe business has also become one of the attractive business ideas in Pakistan. Please read our blog on business ideas in Pakistan for more details.
The café is ideally located in F7 and is known as one of the best cafe in F7 Islamabad. English Tea House is a perfect place that offers a fusion of classy and chic tea shops with a unique vintage feel, offering local and continental sweet and savory treats. That is why it is popular among cafés in f7 Islamabad.
People visit the place for breakfast, lunch, tea, and dinner and enjoy the enormous variety of coffee and authentic tea. Last but not least, the café also offers the best buffet in Islamabad. So if you want to enjoy something extra delicious to eat, try the buffet for sure.
Among many of its dishes, the recommended foods include; Chocolate Banana waffle, Hershey's Hot Chocolate, Caramel Latte, Spanish omelet, etc.
3. Quetta Tea N Teas:
Are you more into desi chaaye café than the continental one? Finding the one that matches your need can be hard, but it is not impossible. Quetta Tea N Teas is one of the affordable desi-style tea cafés in F10 Islamabad. For its traditional atmosphere and menu, the café is among the popular cafes in F10 Islamabad.
Many people visit Quetta Tea N Teas for traditional "Gur wali chai" and crispy paratha. The menu is simple, yet every item has a delightful taste, making it popular among people. Many people come here with friends and family to enjoy the tasty weekend brunch.
The Karak Tea here is prepared and served in a traditional style that brings uniqueness to its taste and aroma. The café also offers outdoor seating, so if you are looking for an outdoor café in Islamabad, Quetta Tea N Tea can be your choice.
If you are looking for fantastic shopping places in the area after enjoying tasty tea, read our blog on the best shopping malls in Islamabad.
4. Café 1 Islamabad:
If you are looking for the best outdoor cafes in Islamabad, look nowhere other than Café 1 Islamabad. It is one of the cafes Islamabad where you can enjoy breakfast and a nice cup of tea or coffee with friends and family in F6 Islamabad. Also checkout our blog famous parks in Islamabad.
As one of the trendiest café in Islamabad, the eatery offers a tempting menu of tasty food. The best thing about the café is that you can enjoy your meal outdoors or sit inside the comfy and well-decorated seating area.
The outdoor sitting is a simple yet well-decorated garden under the hanging fairy lights. The scenic and calm atmosphere with unique decoration makes it a favorite café among visitors.
Are you looking for the best areas to start your café business in Islamabad or Peshawar? Please read our blog on commercial investment in Peshawar for details.
The menu is very diverse, and it includes lots of traditional and continental varieties. For instance, in continental variety, you can enjoy different types of pancakes, omelets, French toast, and waffles. On the other hand, the menu offers foods like burgers, steaks, seafood, and sandwiches. You can also enjoy traditional foods like traditional-style Nihari at Café 1 Islamabad.
5. Coffee Planet:
The coffee planet is one of the work-friendly cafes in Islamabad. It is an international chain of coffee shops in 1-8 Islamabad that has become one of the popular visiting spots in the city. The café is particularly famous among home-based employees and freelancers. The chic casual environment, appealing décor, excellent service, and tasty coffee has made Coffee planet one of the best cafes in Islamabad. Around this café there are numerous hi tea restaurants in Islamabad.
The café offers a huge list of tea, coffee, and hot and cold beverages. You can also enjoy savory items from the dessert menu to satisfy your sweet tooth.
6. La Montana:
La Montana is a unique French-inspired cafe nestled in the capital city. With its stunning décor and chic atmosphere, La Montana is perfect for brunch with friends or romantic dinners. The menu features traditional French cuisine at reasonable prices, making it one of the most popular cafes in Islamabad. La Montana is a popular hangout spot for locals and tourists in the heart of Islamabad. It provides breathtaking views of Faisal Mosque. Which is one of the famous mosque in pakistan. The scenic view give its visitors a chance to explore some of the best cafes in Islamabad. Visitors can choose from a diverse range of coffees, teas, and snacks such as pastries, cakes, and sandwiches. If you're looking for something more filling, plenty of main dishes are available, including marinated salmon fillets and lamb kebabs. All ingredients used are locally sourced, ensuring that each dish is full of flavor and freshness.
7. Gloria Jeans Islamabad
Gloria Jeans, located in Islamabad, is one of the most popular cafes in the city. Known for its friendly staff and delicious coffee and baked goods, Gloria Jeans has become a go-to spot for local residents in search of great food and comfortable surroundings. Whether you're looking for a zone to relax with friends or just to take a break from your day, Gloria Jeans is sure to provide an inviting atmosphere where everyone can feel welcome. A visit to Gloria Jeans ensures quality food and drink that will keep you coming back for more. The café boasts an extensive menu featuring signature coffees like their famed mocha latte and delectable treats such as cookies, pastries, and cakes.
8. Em En café:
Em En Café or popularly known as Pink Café in F6 Islamabad. It is an amazing place to visit in Islamabad. The café is themed with a contemporary design bathed in Pink. The delicate design with the finest details creates a unique ambience in the café.
With the pink interiors and cheerful ambience & environment, the café offers an impressive menu. So you can enjoy delightful food while mesmerized by captivating aesthetics. Indulge in a delightful breakfast with many options, such as a Mexican omelet, Spanish omelet, English breakfast, egg benedict, and scrambled egg bun – you name it, they have it!
9. Loafology:
It is one of the best café in Islamabad with a great ambience. The bakery in the vicinity of Blue Area Islamabad offers the best ambience and scrumptious food to visitors. If you are looking for a bakery with authentic European-style cakes and breads, Loafology Bakery is one of the best place to visit in Islamabad.
One of the best parts about café is their sitting environment and ambience. You can enjoy in their café and enjoy the serenity of a busy city in peace. The bakery is the ideal place to sit and satisfy your sweet tooth with a wide selection of delectable desserts.
The café is renowned for using high-quality and organic materials to make all savory and sweet dishes. Apart from their regular menu, chocolate cheesecake is a must-try dessert. You can enjoy the authentic taste of European cuisine, which is rare in the city.
Apart from chocolate cheesecake, there are various items to enjoy a rich experience of chocolate and cream. For instance, other than a hot cup of coffee or tea, try the tempting Victorian sponge cake, croissants, and fresh juice.
Due to its beautiful location, state-of-the-art interior and highly trained and professional staff. The café stands out in the long list of best cafes in the city.
10. Burning Brownie Islamabad:
Are you in quest of some tempting, mouth-watering, tasty and stress-relieving treat? Look nowhere else when Burning Brownie is around you. The café is the best cafe in F7 Islamabad and F6 sectors. The combination of wooden and cement walls, adorned with eccentric signs and simple yet stylish furniture, creates an excellent environment for socializing and working on your laptop.
The café is located in the comparatively calm and serene sector of Islamabad, which is also near a few hill stations in Islamabad. You can enjoy heart full breakfast with French toast and omelets and savor the taste all day.
The café is known for delicious items such as smooth, creamy and flavor cheesecakes. The signature strawberry sauce dripping from its top makes it better than best. A few of the branches are near a few of the renowned marquees in Islamabad, so people often book their orders for scrumptious custom cakes at Burning Brownie.
Let's wrap it up:
Islamabad is full of colors, from its diverse culture to breathtaking majestic views; every tiny details make the visitors fall in love with the city. Restaurants and cafes in Islamabad offer a variety of flavors that can satisfy the quest for a taste for everyone.
So next time you eat and enjoy yourself with your loved ones, make sure to visit one of these places and have a memorable time. Stay tuned to Realtorspk.com for interesting information on real estate.
Read more related blogs: