"Once you lived in Islamabad No other City is good enough."
These lines truly depict the beautiful and comfortable life of Islamabad. The city is listed in top 3 beautiful capitals of the world for its exceptional beauty, peaceful atmosphere and high quality of life. Islamabad has been declared as one of the top tourist destination for 2020.
There are numerous places to visit in Islamabad. Due to its location in the north, traveling to most tourist destinations is much easier. There are lots of things you can do; for instance, go to some of the best places to visit in Islamabad for sightseeing or enjoy fun-filled activities at picnic spots or enjoy the scrumptious food in the best restaurants of Islamabad.
Besides beautiful places, you can also visit best medical colleges in Islamabad or top universities in Islamabad. Islamabad is a hub of top-notch facilities and amenities while offering the best lifestyle and earning opportunities.
List of Top 9 Places to Visit in Islamabad:
Apart from top Islamabad picnic points, historical places, and food, the city is among the best tourist place in the world. This blog is for you if you are also wondering which place suits you best according to tour taste and budget while providing exceptional recreational satisfaction.
In this blog, Realtorspk.com has gathered a list of Islamabad famous places and most popular spots. Let's have a look:
1. Faisal Mosque
Faisal Mosque is an iconic mosque located in Islamabad, Pakistan. Built in 1986, it is the biggest mosque in South Asia and the sixth-largest in the world. Faisal Mosque is considered as the largest mosque in Islamabad. It was designed by Turkish architect Vedat Dalokay, inspired by the traditional architecture of Central Asia, the Middle East, and Turkey. The mosque has four minarets and a large courtyard, accommodating up to 300,000 worshippers. The mosque also features a large white marble dome visible from miles away. The mosque's interior is decorated with intricate tilework, marble floors, and traditional Islamic calligraphy. The main prayer hall features six towering minarets, and the main prayer hall is said to have the giant chandelier in the world. Faisal Mosque is a symbol of Islamic architecture and a testament to Pakistan's vibrant culture and history.
2. Daman-e-Koh: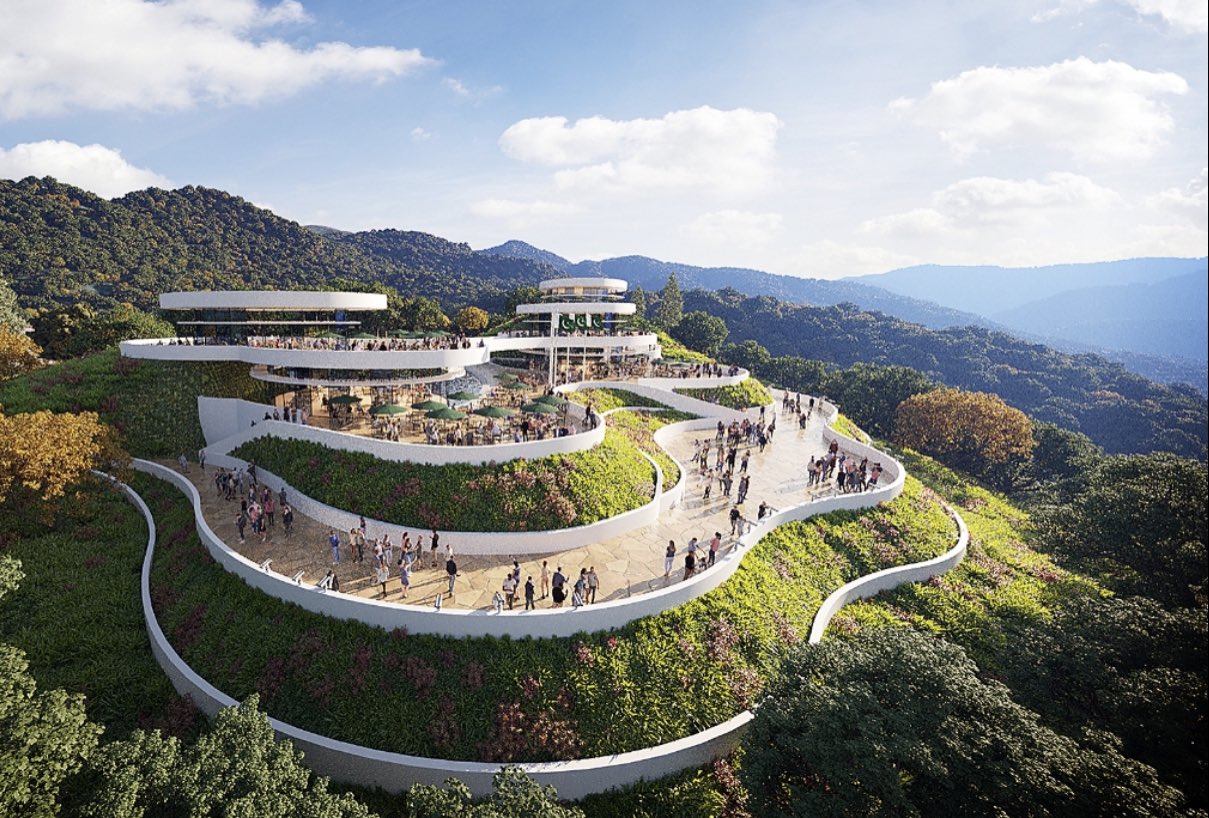 Daman-e-Koh is one of the top places recommended to visit in Islamabad. The beauty, location, and scenery it offers have no comparison with any other corner of the aesthetic city. Daman-e-Koh is a hilltop spot of Margalla Hills. It's considered as the most beautiful hill station of pakistan. It is approximately 2400 ft above sea level and 500 Ft above Islamabad. It is one of the highest points of Margalla Hills, from where you can enjoy the view of the beautiful capital. Also checkout the list of famous parks in Islamabad.
Daman-e-Koh is also a stay point for those visiting Pir Sohawa for tourism. The place is well-known in Islamabad famous places for a variety of its features. The beautiful tourist point Daman-e-Koh offers a scenic view of Faisal Masjid and breathtaking areas of Islamabad. You can also enjoy the charismatic view of Centaurus mall from Daman-e-Koh. Read our blog on top shopping malls in Islamabad to know more about the top-notch shopping places of the capital.
It is one of the best Islamabad picnic points, offering a variety of recreational activities to visitors. The tourist point was further developed in 2007 by CDA, which enhanced its beauty and comfort for the tourist. If you love to visit beautiful and calm places, Daman-e-Koh will become one of your favorite Islamabad outing places for you.
3. Pakistan Monument:
The Pakistan Monument is a national monument located in Islamabad, Pakistan. It is a symbolic representation of the unity of the Pakistani nation. The monument is composed of four large petals, each representing one of the four provinces of Pakistan (Punjab, Sindh, Balochistan, and Khyber Pakhtunkhwa). The four petals are split into three parts, representing the three major ethnic groups of Pakistan (Punjabis, Sindhis, and Pashtuns). The monument is made of granite, marble, red and beige sandstone. The monument's base is shaped like a five-pointed star. The monument's interior is decorated with murals depicting the history and culture of the country. Want to know more about history of pakistan read our detailed blog on monuments of Pakistan.
A large park with lush gardens and several fountains also surrounds the monument. The Pakistan Monument is an important symbol of national unity and a reminder of the country's rich history.
4. Lok Virsa:
Talking about Islamabad's attractions, it is impossible to leave the city's culture, heritage, and history. Lok Virsa is one of the most popular historical places in Islamabad. It is also known as one of the places to visit in Islamabad with family. Overseas Pakistanis often visit it with their families to show them the rich and diverse culture.
Lok Virsa is a place where you will find a huge display of various cultural items, including pictures, pottery, music, statues, textile work, etc., from different ethnic groups of Pakistan. The Lok Virsa museum is the epitome of Pakistani culture and heritage. The museum is paying tribute to Pakistan's rich and diverse culture with its unique architecture and theme. The museum consists of different buildings and outdoor areas depicting the culture.
Lok Virsa is located near Shakarparian Road – Shakarparian is also one of the popular picnic points in Islamabad. Are you looking for the best northern places in Pakistan? Read our blog on northern areas of Pakistan.
If you want to know more about Pakistan history, tradition, and heritage, visit its full resource library, which has a huge collection of books on folklore, ethnicities, history, and relevant topics. The museum is known for holding different exhibitions from time to time in which people install stalls to showcase the products like traditional clothes, food, jewelry, woodwork, bone work, etc.
5. Saidpur Village:
Saidpur village is one of the best places to visit in Islamabad. It is also one of the historical places in Islamabad to go with family and friends. The historical place is one of the best places to visit near Islamabad as it is located near the Margalla Hills. The Saidpur Village is an ancient Hindu village where Hindu worshippers came to worship from far places. The remains of their history and culture can be seen today.
The Government has modernized the village and turned it into a modern model village with numerous eatery places and iconic style. Read our blog on top hotels in Islamabad to check the best options for eatery and stay.
The development has turned it into one of Islamabad beautiful places to spend quality time with loved ones. It is also one of the most attractive places to visit in Islamabad at night.
6. Lake View Park:
Lake View Park is one of the newest tourist points in Islamabad. Twin Cities children from the 90s might have remembered playing on the grounds near Rawal dam in their childhood. The place at the time was beautiful, yet hidden places in Islamabad for picnics and sports.
The relevant development authority developed the area and turned it into magnificent Lake View Park. The Park has been operational since 2010, and since then, it has become one of the best places to visit in Islamabad.
Lake View Park is easily accessible from Murree Road, located at the edge of Rawal Lake and Kashmir Highway. The place is also near the commercial hub of the city. To know more about attractive business opportunities, read our blog on business ideas in Pakistan.
Lake View Park is a well-known Islamabad outing place for families; therefore, a huge crowd is seen on weekends, festivals, and occasions.
There are lots of things which make it an ideal place to visit for all. The Park has a children's fun area with exciting and thrilling rides, dedicated BBQ areas, and a food section to enjoy scrumptious food while you roam around the park. There is a bird sanctuary where you can watch beautiful exotic birds like the variety of parrots and peacocks.
There is an option to enjoy the boat ride with the family or enjoy the view from its shores. Lake View Park is among the best places to visit in Islamabad for couples. Enjoy a fun time during the day or a stunning view at night with taste; the place will definitely add lovely memories to your life. All these amenities and features make it one of the best places to visit in Islamabad.
7. The Centaurus Mall:
The Centaurus Mall is a superb shopping destination located in Islamabad, Pakistan. It is one of the largest shopping malls in the country and offers a diverse range of shops, restaurants, and entertainment. It is a vibrant, modern mall with a wide variety of stores, from luxury brands to budget-friendly retailers. The mall also features a range of dining options, including fast food, cafes and famous hi tea restaurants of Islamabad. Entertainment options include a multiplex cinema, bowling alley, and arcade. The mall also hosts special events and activities throughout the year. With its lively atmosphere, great selection of stores, and entertainment options, The Centaurus Mall is a great place to spend a day shopping, eating, and having fun. It is also considered one of the most popular Islamabad outing places. Also checkout the best cafes in Islamabad.
8. Shah Allah Ditta Caves: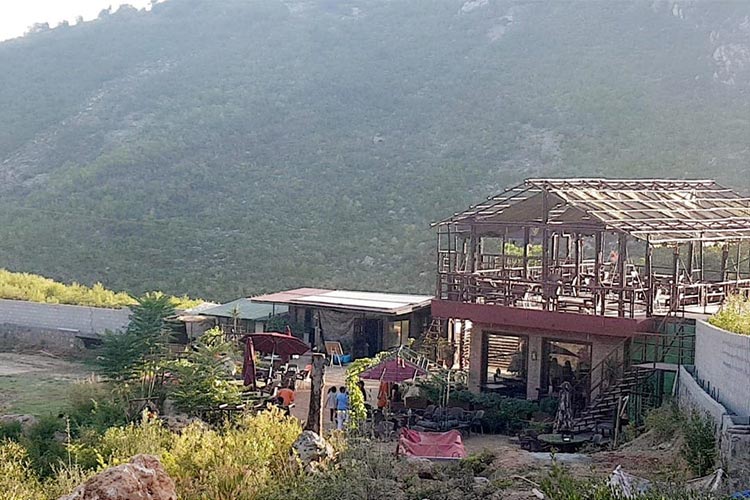 Are you interested in something spooky and ancient? If yes, then Shah Allah Ditta Caves should be on a list of "must places to visit near Islamabad."
Shah Allah Ditta Caves are located at the foothills of Margalla Hills, and many prominent housing societies are in its vicinity. Read our blog on Housing Societies in Islamabad to know more about residential properties in their surroundings.
There is a village surrounding the caves, which is known to be 700 years old. It is said that the village has served as a route for people traveling from Gandhara City to Kabul. The caves are known to be 2400 years old. People often visit the area to see the relics of the Buddhist era.
The caves have now been turned into a nice place to visit. Once known as hidden places in Islamabad, it has become a beautiful tourist attraction in the city. Tourists can enjoy refreshments and listen to music while exploring the ancient runes and relics. Since development, the caves have become one of the well-known Islamabad beautiful places.
9. GIGA Mall:
GIGA Mall Islamabad – is one of the top places to visit in Islamabad. Whether you love shopping or looking forward to spending quality time with friends and loved ones, GIGA Mall will fulfill all your desires.
There are around 200 plus national and international brands in the Mall; moreover, people visit it to watch a movie at the GIGA Mall Cinepax and enjoy scrumptious food from famous national and international food chains. If you are looking for an attractive online shopping experience in Islamabad, visit our blog on online shopping websites in Pakistan.
The Mall opened its door to visitors in 2016. Since then, it has changed people's shopping experience in Islamabad. The mall features 16 floors and is constructed on a spacious land of 4 Acres. The visitors can shop and spend quality time with their friends and family while enjoying numerous facilities like free Wi-Fi and prayer rooms.
Let's wrap it up:
So that's all for now! We hope you have found the information useful, and the next time you visit Islamabad, one of these places will be on your list. Stay tuned to Realtorspk.com for interesting information and news on real estate and Pakistan. If you are looking for a place to relax specially in summers then you should visit the best swimming pools in Islamabad.
Read more related blogs: