Do you want to explore the capital of Pakistan? Or are you fed up with your daily routine of getting up early in the morning to do breakfast and running for school, university, or the office? then read this blog about the best hotels in Islamabad.
The majority of us live in the capital, but we don't even know well-known luxury historical places and the famous shopping malls in Islamabad.
There is no doubt to say hotels in Islamabad are the best places to stay with your family and friends to encounter a luxurious experience. It is gorgeously beautiful. Another fact that makes it more precise is that it is the stunning Capital of Pakistan, which is undoubtedly rich in state-of-the-art architectural sites. In other words, we can say that it is a modern city packed with a lot of delicious restaurants, lush green trees, the world's best universities, top colleges, the most visited parks, and none other than hospitable people. Islamabad is also one of the best city for real estate investment.
Have you heard the word Margalla Hills? Yeah, it's in Islamabad. Due to its panoramic views and untouched magnificence, everyone wants to visit Margalla Hills, and why not? There are a lot of places out there where you can go hiking and jogging. Islamabad is globally famous for its stunning beauty and top-notched luxury Islamabad hotels.
While you are out of the city and want to spend some days in Islamabad, you will indeed require a place/residence to stay. Well, nowhere comes a difficult task. Obviously, you want to live in a perfect place which is hard to find for a new person. You might wish to have a peaceful, secure, and beautiful, at the same time easy on the pocket place. These factors only can be found in detailed research. Right? Also checkout our blog famous places to visit in Islamabad.
So what are we waiting for? Choose a list of hotels in Islamabad.
We have compiled a list of the best hotels in Islamabad for you. Pass it a piece of reading and pick a hotel based on your selection and flavor.
List of 10 Best Hotels in Islamabad:
| Hotels | Stars | Ratings | Location | Contact |
| --- | --- | --- | --- | --- |
| 1. Islamabad Marriott Hotel | ★★★★★ | 4.9 | Agha Khan Rd, F-5/1 F-5, Islamabad | (051) 2826121 |
| 2. Islamabad Serena Hotel | ★★★★★ | 4.6 | Khayaban-e-Suhrwardy, opposite Convention Centre، G-5/1 G-5, Islamabad | (051) 111 133 133 |
| 3. Hotel Margala | ★★★ | 4.2 | Sahara Kashmir Rd, Shakar Parian, Islamabad | (051) 111 901 901 |
| 4. Chalet Islamabad | ★★★★ | 4.3 | 14 Corner, Street # 60، 3, Main Ataturk Ave, F-6, Islamabad | (051) 8731651 |
| 5. Viridi Hotel | ★★★★ | 4.2 | Tehzeeb Sweets، Block F G 7/3 Blue Area, Islamabad | (051) 8841070 |
| 6. Ramada Hotel | ★★★★ | 4.1 | Pl1, Club Road Adjacent Rawal Lake, Shakar Parian | (051) 111 379 379 |
| 7. Hotel Crown Plaza | ★★★★ | 4.1 | 99-E Jinnah Ave, Block I G 7/2 Blue Area | (051) 2347080 |
| 8. Islamabad Hotel | ★★★★ | 4.2 | Main Civic Centre, Municipal Rd, G-6 Markaz, G-6 | 111-273-273 |
| 9. Hotel One | ★★★ | 3.8 | 36 Agha Khan Rd, F-6/4, Islamabad | 0341 2201111 |
| 10. Hill View | ★★ | 4.1 | F-7 Markaz, Main Jinnah Super Market | 051 8319000 |
1. Islamabad Marriott Hotel
Accommodation Types: Deluxe King Room, Deluxe Twin Room, Executive King Room, Executive Twin Room, Junior Suite, Royal Suite, and Presidential Suite.
If we talk about the top-notched 5 star hotels in Islamabad, Marriott Hotel comes first in our mind, also on top of the list because of its exceptional services and outclassed interior. In simple words, we can say Marriott Hotel Islamabad is the synonym of convenience, luxury, and elite vibes. The best part about this one of the best hotels in Islamabad is that it is located close to Margalla hills. It's not just near Margalla but also from Rawal Lake, the town center, President & Prime Minister Houses, Ministry of Foreign Affairs, Senate, Parliament House, Foreign Missions, World Bank, Government Offices, corporate sector, Print, and Electronic media offices and much more. That is why Marriott Hotel is one of the leading 5 star hotels in Islamabad. If you are looking for Hotels in Islamabad near Airport, this is the best hotel to visit as it hardly takes 30 Minutes between the hotel and the Islamabad International Airport.
2. Islamabad Serena Hotel
Accommodation Types: Deluxe King Room, Deluxe Room, Junior Suite, Executive Suite, Presidential Suite.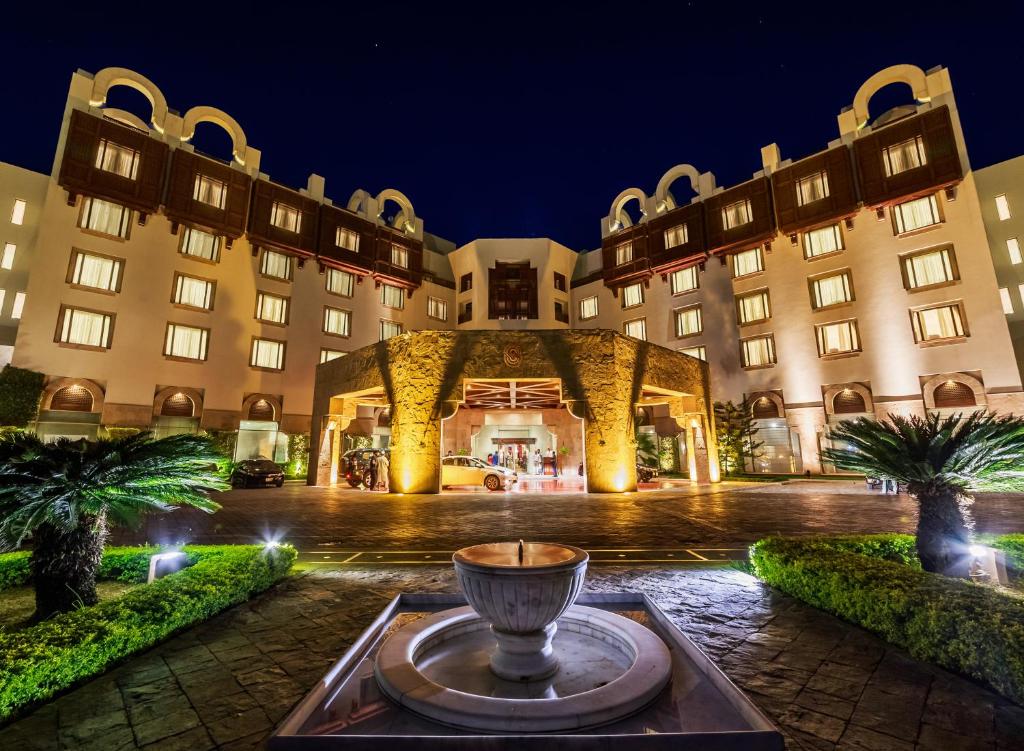 Next on our list is none other than Sarena Hotel Islamabad. A great option to stay in Islamabad, It features a complimentary airport shuttle (open 24 hours) and a rooftop terrace. Visitors/Guests can visit the spa with deep-tissue massages, Ayurvedic therapies, or aromatherapy. The famous Zamana Restaurant, one of 5 restaurants, serves delicious Asian cuisines for breakfast, lunch, and dinner. An outdoor pool and a fitness center are additional highlights of this one of the top hotels in Islamabad. The hotel rooms are luxurious and offer 24/7 room service. The cooperative staff and admirable bathrooms earn exemplary marks from fellow guests. This stunning and one of the luxury hotels in Islamabad is located at Khayaban-e-Suhrwardy, Opposite Convention Center Islamabad. Also check some of the best real estate projects in Pakistan.
3. Hotel Margala
Accommodation Types: Executive Room and Deluxe Room.
Thirdly, we have Hotel Margala located at an ideal location of Sahara Kashmir Rd, Shakar Parian, Islamabad. Hotel Margalla is one of the ancient and most well-known 3-star hotels in Islamabad and is known for its hospitality and top-notch 24/7 room services. A contemporarily designed infrastructure such as immense yards and pacifist ambiance have a more calming impact on your living experience. If you adore luxury and top-class hospitality services, Hotel Margalla is one of the Safe hotels in Islamabad for you. You can obtain a standard room for almost Rs.18000 a day. There are several types of cuisines at the hotel, including Italian, Mexican, Chinese, French, and Pakistani dishes. Their dining packages are so easy on the pocket with luxury and a peaceful environment to make your vacations memorable. Another top-notched feature is they have a really smooth process of booking. The majority of times, Islamabad hotels booking takes a lot of time and several requirements to fill up, but this hotel has broken the conditions and come up with a smooth booking process. Apart from hotels , also read our blog on Motorways and Highways of Pakistan.
4. Chalet Islamabad
Accommodation Types: Double or Twin Room, Executive Junior Suite, Executive Double Room, Club Single Room, Deluxe Double or Twin Room, Executive Single Room, Deluxe Single Room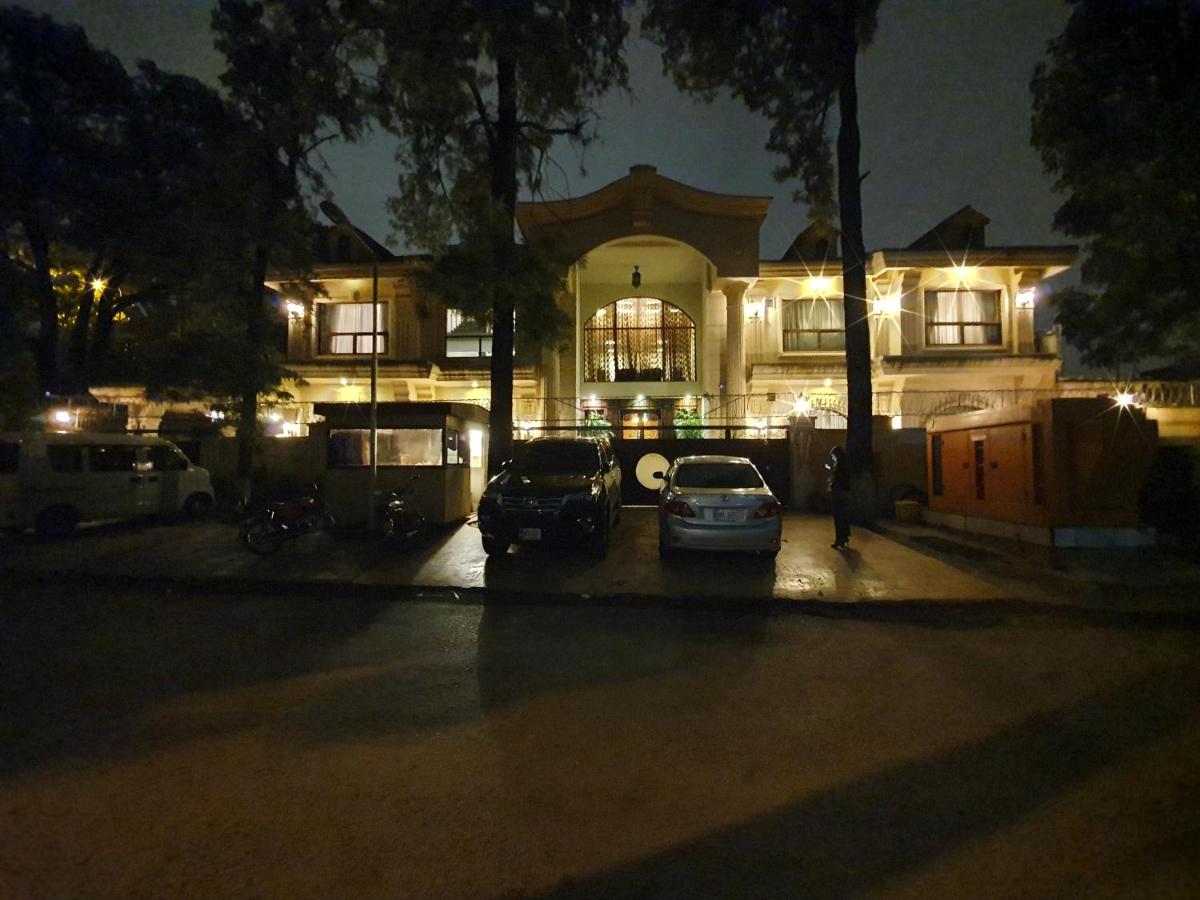 Chalet Islamabad located at a prime location of House # 14, Street # 60, F-6/3, Islamabad, features free WiFi and scenic views of mountains in Islamabad. This guest house also features BBQ – barbecue facilities. The property features a restaurant. And it's just 700 m away from the Pakistan National Council of Arts. All rooms are equipped with a flat-screen TV with satellite media, a kettle, a shower, toiletries, and a desk. All rooms contain a personal bathroom and provide guests with a microwave. Continental and Pakistani Buffet Breakfast each morning is served professionally. The in-house restaurant specializes in Grill/bbq, Asian and American cuisines. A combination of famous sports are available in the area near Chalet Islamabad, such as horse riding and canoeing. The lodging also delivers a business hub, and visitors can review the newspapers, utilize the fax machine and photocopier, or can use the baggage storage assistance at Chalet Islamabad. Staff at the front desk speak English and Urdu and are available 24-hour. It is one of the best Hotels in Islamabad F7. If you are looking for one of the cheap hotels in Islamabad, you must check out Chalet Islamabad. Also read our blog on Business Ideas in Pakistan.
5. Viridi Hotel
Accommodation Types: Deluxe, Deluxe King, Standard Twin, and Executive Suite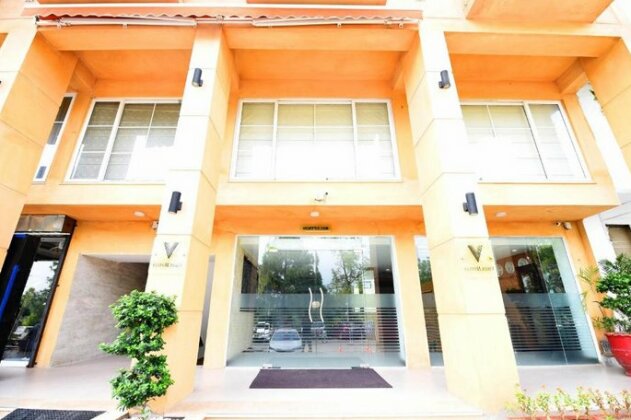 Last but not least, we have the Viridi Hotel, which is located at a prime location in the city center of Islamabad – known as the Blue Area. In other words, it is the business hub of twin cities (Islamabad and Rawalpindi). Just located next to Centaurs Mall, Saudi-Pak Tower. It has all amenities of daily life, such as restaurants, supermarkets, and hospitals that are efficiently accessible from the hotel. One major reason for the famousness of this hotel is that it has a metro bus station, within a walking distance. Their location is ideal for anyone who is coming to Islamabad for business activities or any other purpose. If you are looking for one of the top Hotels in Islamabad Blue Area, must have a visit to Viridi Hotel. We are sure you won't be disappointed.
6. Ramada Hotel
Ramada is one of the famous hotels in Islamabad for families. It is a comparatively new hotel in the capital of Pakistan and has gained rapid fame. Ramada is a 4-star hotel that offers excellent services and the best experience of staying experience to their prestigious customers. Read our blog about the best cafes in Islamabad.
The 4-star hotel is located near the beautiful location of Rawal Lake. Due to its location, tourists can easily commute to the tourist spots. Ramada is located near the New International Airport Islamabad, so it is a good choice for those who find trouble commuting to the airport. Also read our blog restaurants in Islamabad.
The luxurious hotel offers various facilities and amenities to the guests. You can also choose from different rooms to stay in according to your comfort. The rent of rooms is different from type to type. The rent of a room starts from 25,000. However, the guests can avail of a discount of up to 15% by booking in advance.
7. Hotel Crown Plaza Islamabad
Hotel Crown Plaza is one of the excellent options to consider in Islamabad. Located at the prime location of Islamabad, Blue Area, it is also known as one of the cheap hotels in Islamabad. Commuting to and from Crown Plaza hotel is effortless as the visitors can roam on the metro bus. The station metro bus in Islamabad is only 1-minute away from the hotel.
Many features make Crown hotel a popular hotel in Islamabad. For instance, the hotel offers free Wi-Fi, a dedicated parking area, complimentary breakfast and exceptional services. There are various rooms available to choose from, including standard rooms, deluxe rooms, suites, etc. The room price starts from 13,000, and children under 13 can stay without any cost. That is why it is one of the hotels in Islamabad cheap rates.
Crown Plaza Hotel Islamabad also features a spa, sauna, steam room and a coffee shop. You can also get foreign currency from the hotel.
8. Islamabad Hotel
Islamabad Hotel is one of the oldest hotels in Islamabad, offering excellent services for years. From its state-of-the-art architecture to its classy charm and outstanding service, the hotel stands unique in the capital of Pakistan.
The hotel offers easy booking from many Islamabad hotels bookings and offers different room options, including deluxe rooms, standard rooms, and family suites. The price of a room starts from 20,000.
The hotel offers many luxurious services, among which few are; BBQ places, coffee houses, restaurants, etc. The hotel also offers professional cooking and hotel management courses.
9. Hotel One: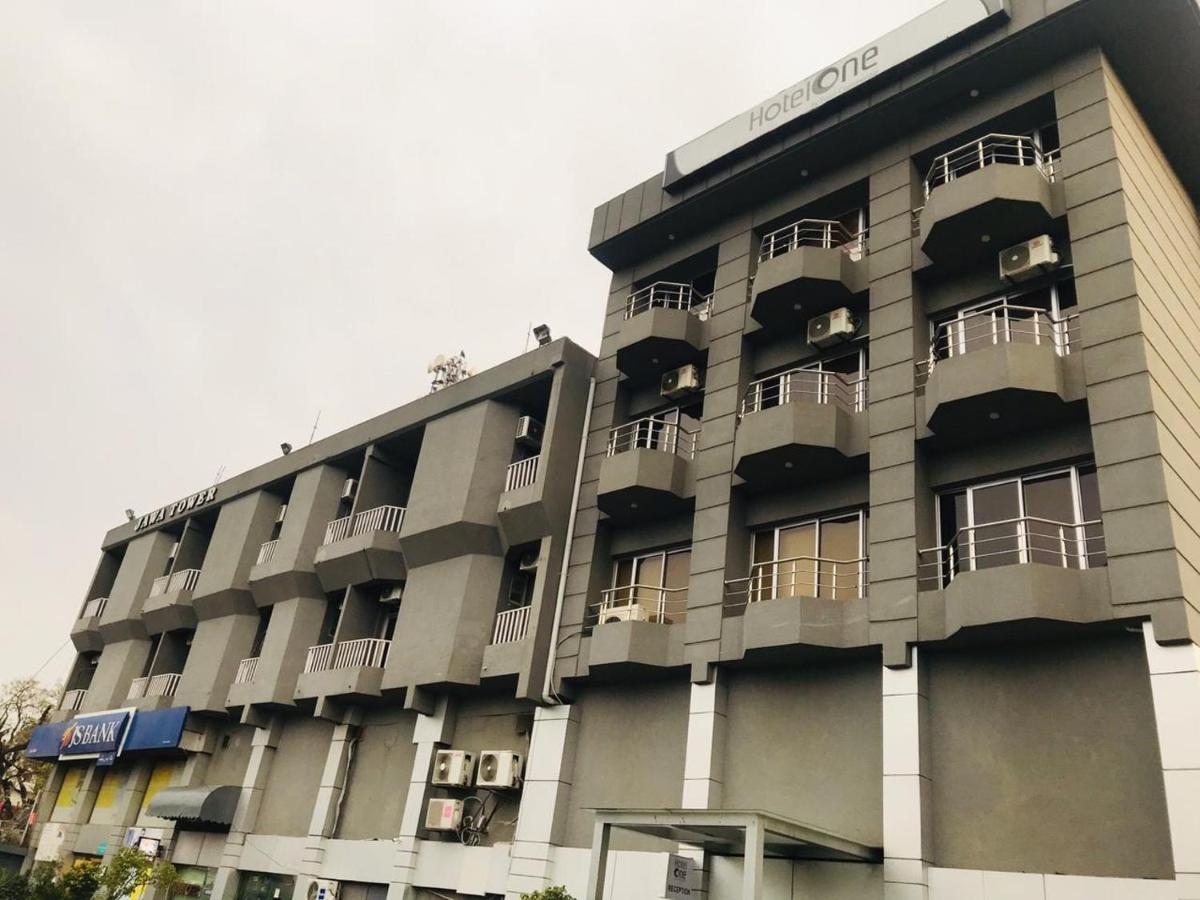 'Hotel One' is one of the grand hotels operating under the renowned Pearl Continental Hotel. Hotel one started its operation in 2006 and soon became one of the top hotels in Islamabad. It has 17 branches throughout the country. The hotel is known for its high-class hospitality and excellent services.
In every branch of Hotel one, numerous facilities and amenities are available for every prestigious customer and visitor. Some of the valuable services are:
Air-conditioning
24/7 Front Desk Services
Car services on rent
Complimentary Breakfast
Meeting and conference rooms
Currency exchange
Free parking space
Free Wi-Fi
Dry Cleaning and Ironing services
Café services
Top class room services
10. Hill View
Hill View hotel is one of the eminent Islamabad hotels located at the foothill of Margalla Hills. The breathtaking view and peaceful surroundings make it one of the best locations to stay in. The rooms are decorated elegantly, and the hotel offers numerous facilities and amenities with world-class services. Also check swimming pools in Islamabad.
Therefore, it is also considered one of the most expensive hotels in Islamabad. Few of the facilities and services Hill View Hotel offers are:
Spacious Parking Area
Complimentary Breakfast
Dry Cleaning and Ironing Services
Excellent room services
24/7 Front Desk
In house Restaurant & Café
Gym/ Fitness Center.
Meeting & Conference Room
Designated Smoking Areas.
Hill View is one of the best hotels to stay in if you plan to roam around Islamabad as it is close to places like; Rawal Lake, Centaurus, Damn-e-Koh, etc. You can also access the metro bus and public transport services near the hotel.
Summing up:
Above, we have mentioned a list of Hotels in Islamabad cheap rates that are easy on your pockets at the same time with uncountable amenities and luxury experience. These all luxury hotels in Islamabad are offering an at-home experience to their guests with 24/7 room services and other facilities. Tell us which one is your favorite? You can also read our blog on Best Hotels in Peshawar. For more updates and real estate news keep reading Realtorspk Blog.
Read more related blogs: