Whether it is taking a break from a long week of work or whether you want to spend some quality time with your family, hill stations without doubt are the most captivating place to visit. They not only provide one with scenery and landscape that is hard to overlook, but they also have multiple spots for families or friends to enjoy and hike. A good hike keeps one healthy. Hill stations have a lot of places to explore like having pakoras and chai at Kashmir Point in Murree or admiring the crystal blue lakes of Gilgit and Shogran. There are multiple adventures to undertake. These are some of the best hill stations in Pakistan. For some people, hill stations can provide a perfect mix of some time alone under the shade of the whispering pines. 
Near these hill stations there are many real estate opportunities but you need to some important things to consider before investing in Real Estate.
We have listed below the Top 10 Hill stations in Pakistan that you definitely want to go to or maybe some that will revive your past adventures to the hill stations. 
Here is the list of some of the popular hill stations in Pakistan:
1. Murree
Murree is the first hill station on our list (of course). It is one of Pakistan's most well-known tourist spots. Hundreds of thousands of local and international visitors visit this location each year.
Murree is located on the outskirts of Islamabad, hilly areas near Islamabad. making it an ideal weekend retreat for those who live in the city. Islamabad, the world's second most beautiful metropolis, offers both spectacular and terrifying sites to explore. Murree is about a one-and-a-half-hour drive from Islamabad. Also checkout some of the best housing societies in Islamabad .
You may also have coffee and snacks from major coffee companies like Gloria Jean's and Second Cup Coffee on your route to Murree.
Once you've arrived in Murree, be sure to pay a visit to the following locations:
Mall road
Pindi point
Patriata Chairlift
Kashmir Point
Sangrela Park
Chhattar Park
Apart from these attractions, Murree also boasts some delectable cuisine. Street vendors offering desi sweets like chicken broast, karahis, pakoras, and samosas line the Mall road. If you feel like going to shopping or exploring Islamabad, then you can check out famous shopping malls in Islamabad. 
2. Abbottabad
Abbottabad is the next hill station on our itinerary. Sir James Abbott was the name given to the ancient hill station in January 1853. In Abbottabad, there are a variety of places to visit. Some of these locations include:
From up there, you have a bird's eye view of the entire city. Wildflowers and mint blanket the summit. That cold minty scent may be found all around the area.
It is a magnificent white marble masjid in the heart of the city. It was built in the early twentieth century. The mosque was built on top of a flowing stream. There's a natural spring-fed pool there. You can also see the famous dams in Pakistan.
Visit Harnoi while you're in Abbottabad. It's a little yet lovely spot surrounded by natural beauty. Abbottabad is about 11 kilometres away. The flowing river and rich greenery are breathtaking. In Pakistan, visit dams, which are popular holiday locations for residents.
3. Skardu :
Skardu is one of Pakistan's most beautiful hill stations. Even if you have never visited this magnificent valley located at the junction of the Indus and Shigar rivers at an elevation of 8,200 feet above sea level, you certainly have at least a postcard or calendar with a shot of this lush green tourist attraction.
Skardu is the capital of the Skardu District and is located in the beautiful Gilgit-Baltistan area. It also has some of the country's most picturesque lakes, such as Upper Kachura Lake, Lower Kachura Lake, and Satpara Lake. Skardu Fort, Shigar Fort, Deosai National Park, and Manthokha Waterfall are all within a short distance of this magnificent peak.
4. GILGIT :
Gilgit is the capital of the Gilgit District in Pakistan's stunningly picturesque Gilgit-Baltistan area, as well as one of the country's most popular hill stations. Gilgit is a beautiful slice of heaven on earth, surrounded by spectacular snow-capped mountains, ethereal lakes, and charming green meadows.
This hill station attracts a big number of local and international tourists each year due to its reputation as one of the most developed regions in the whole region. Gilgit's best hotels have all of the amenities that you'd expect to find in larger towns. It even has a tiny domestic airport, allowing visitors from all around the nation to visit.
Apart from hill stations also checkout some of the best real estate companies in Peshawar .
There are a number of hill stations in Gilgit that you may visit with your friends and family.
These are some of the hill stations:
Passu
Upper Hunza, Gojal
Shukargah
Ishkoman
Chillum
5. HUNZA
You can't talk about Skardu and Gilgit without mentioning Hunza, a gorgeous hill station in Gilgit Baltistan that reminds you of the awe-inspiring winter wonderlands described in children's fairytales.
Hunza is surrounded by spectacular snow-capped mountains, hypnotic green meadows, fruit-laden orchards, and pure blue rivers at an elevation of 8,000 feet. Some of Pakistan's most popular tourist sites are located in or around Hunza, including Attabad Lake, Altit Fort, Baltit Fort, Passu Cones, Eagle's Nest, Rakaposhi View Point, and Ultar Glacier.
As mentioned earlier that near these hilly areas there are many good real estate investment opportunities but there are factors affecting Real Estate Market in Pakistan so you need to consider those factors before investing in these areas.
During their travel to Gilgit Baltistan, most visitors like to remain in Hunza for two to three days, depending on their schedule. The residents' warmth, the availability of all municipal amenities, and the beautiful views.
6. AYUBIA
Ayubia, also known as Ayubia National Park, is one of Pakistan's most well-known hill stations. This gorgeous tourist site is part of the Abbottabad District in the province of Khyber Pakhtunkhwa, and is located only a short drive from Murree at an elevation of 8,000 feet. The Wildlife and Parks Department of the Government of Khyber Pakhtunkhwa manages this hilltop resort complex, which was designated as a national park in 1984.
These hill stations are the tourist attractions from all over the world so investing in these areas is considered as one of the profitable property investment in Pakistan .
Ayubia is a popular day trip destination for visitors to the area because it is only 26 kilometres from Murree. Surrounded by high peaks and deep green forest, the picturesque hill station offers exciting hiking paths, magnificent picnic areas, stunning overlooks, a PTDC hotel, and, most significantly, the famous PTDC tea. It has one of the most popular chairlifts in the country.
7. Shogran
Shogran is a lovely hill station in Pakistan's Kaghan Valley, one of the country's most attractive regions. Hundreds of people visit Shogran every year due to its magnificent beauty. It stands at 2,362 metres (7,749 feet) above sea level.
In Shogran, there are a variety of lodging options, but our favourite is the Forest Rest House. It's a warm and inviting space with tasteful wood furnishings and décor. The forest-themed rest home is ideal for families and groups of friends travelling together.
If you have children, you should take them to Shogran's tiny zoo. It is home to a variety of animals and birds. I'm sure it'll be a hit with the youngsters.
Malkandi is the place to go if you want to have a closer look at nature in Shogran.
8. Margalla Hills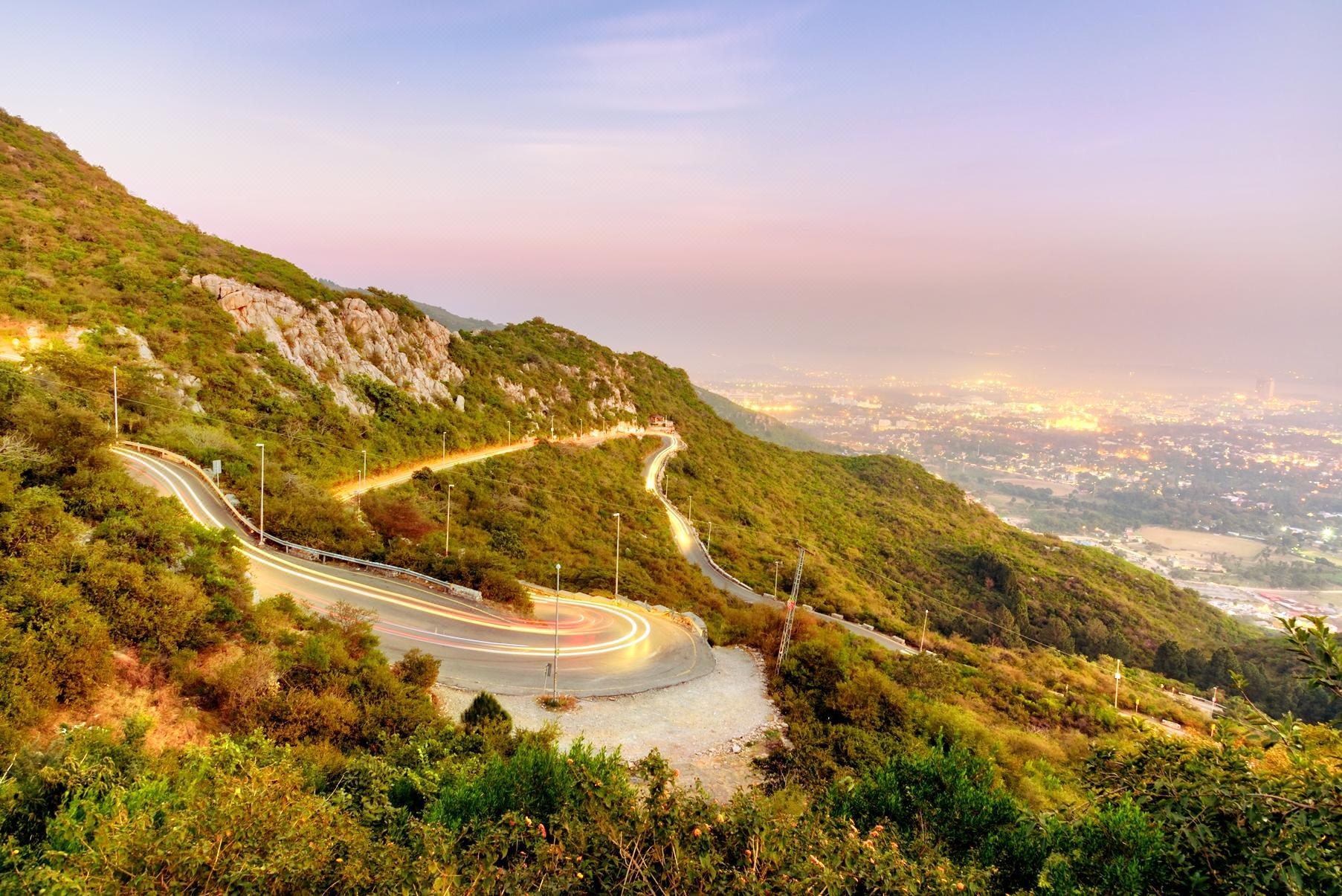 Margalla Hills is one of the famous hilly areas near Islamabad. The beautiful hills are located north of Pakistan's federal capital. Margalla hills are part of Himalayan foothills, which are spread over 12 695 hectares. The hills are habitant of a variety of plants and trees. In summer, the hills are covered with lush green plants and trees, whereas in winters, the peaks are covered with snow. The visitors love to visit different recreational spots at Margalla hills for various reasons. For instance, the visitor can enjoy the cool, calm, and green atmosphere or enjoy the view of Islamabad in the evening while standing at the viewpoint in Damn-e-Koh.
The hills are habitant of many exotic animals and birds, and there are many hiking and trekking tracks. All these fun features make Margalla Hills one of the best visiting points for everyone. Therefore, it is considered one of the most popular hill stations in Pakistan.
9. Gorakh Hill station
Gorakh Hill Station is the only hill station located in Sindh. The beauty and history make it one of the most popular hills in Pakistan. The Hill station is at an elevation of 5,689 ft (1 734 m) above sea level. The hilly areas were first discovered in the 1860s during the reign of the British over the subcontinent.
The hills are different from other mountains as it is not covered with snow or tall trees; still, the beauty is pretty appealing. The ideal time to visit Gorakh Hill is from February to April and enjoy many fun activities like hiking, photography, camping, etc.
10. Fort Munro
Fort Munro in Dera Ghazi Khan is a famous hilly area of Pakistan. Can't travel to Pakistan? Worry not; Fort Munro offers a stunning hilly destination to visitors and tourists. Fort Munro is located around 6,470 feet above sea level and is comfortably accessible from areas of Southern Punjab like Multan and Bahawalpur.
Fort Munro is part of the renowned Sulaiman Mountain range and the only hill station around southern Punjab. Therefore, it is a popular picnic spot in nearby cities and towns. With such a high altitude, the temperature is pretty lower than in Multan and D G Khan areas. Hence, the cool wind and mesmerizing view have made Fort Munro an excellent tourist point.
The provisional government is working on installing cable cars and a chairlift system to facilitate the tourists and visitors at Fort Munro.
Summing Up:
Malkandi is the place to go if you want to have a closer look at nature.
Visit Realtors for additional information about prominent hill stations or housing societies  in Pakistan surrounded by stunning mountains, as well as places to visit in each of the country's main cities. 
Read more related blogs: