Are you planning to visit Islamabad or thinking about moving to Islamabad? Before traveling or relocating to a city, you must know what the city has to offer.
Recreational spots and parks are one of the salient features of a city since you need a tranquil space to re-energize yourself after a hectic work routine. This is one of the strategies for maintaining a dynamic and productive lifestyle.
Besides knowing about the best hotels in Islamabad to stay and the best housing societies to buy property, you must also know about the best parks in Islamabad.
Islamabad, the capital of Pakistan, is listed in the top 8 beautiful capitals of Pakistan. There are several famous parks in Islamabad to visit. The Islamabad parks are a scenic combination of Margalla hills, lush green trees, a beautiful lake, and a diverse range of animals, birds, and plant species.
Today we will share a list of parks in Islamabad where you can plan a perfect day out.
List of 8 Best Parks in Islamabad to Visit:
| | |
| --- | --- |
| Name of Parks in Islamabad | Location |
| 1. Fatimah Jinnah Park | Jinnah Avenue, Sector F-9, Islamabad |
| 2. Lake View Park | Near Malpur village at the edge of Rawal lake in Islamabad |
| 3. F-1 Traxx | F1 Traxx, Lake View Point, Rawal Lake, Islamabad. |
| 4. Shakarparian National Park | Near Zero Point, Islamabad |
| 5. Japanese Children Park | Khayaban-e-Iqbal, Saidpur, Islamabad |
| 6. Rose and Jasmine Garden | Garden Avenue, Aabpara, Islamabad |
| 7. Daman-e-Koh | Daman -e- Koh Rd, E-7, Islamabad |
| 8. Dino Valley | Block G D-18 Engineering Co-Operative, Islamabad |
1. Fatima Jinnah Park
Fatima Jinnah Park is one of the most visited and best parks in Islamabad. The park is considered the sleeping heart of Islamabad and is placed among the large recreational spots of Pakistan.
The family park in Islamabad was designed by Michael Japero and is a beautiful amalgam of natural and man-made structures. Most of the area is covered with lush green trees, shrubs, and grass. At the entrance, you see a beautiful white marble monument accentuating its grandeur. The Quaid-e-Azam Library is also located near Jinnah park, and serve as the best library in Islamabad.
Four gates face different sectors of Islamabad. Details of the entrance gates are as follows:
| | | |
| --- | --- | --- |
| Gate 1 | Mehran Gate | Southern side on Jinnah Avenue, facing sector G-9 |
| Gate 2 | Bolan Gate | The western side, facing sector F-10 |
| Gate 3 | Khyber Gate | The northern side, facing sector E-9 |
| Gate 4 | Ravi Gate | Eastern side, facing sector F-8 |
The park is surrounded by a steel fence. The park can be divided into two main parts i.e., the less visited part and the frequently visited part. The less visited parts inhabit wildlife since most of the park is naturally occupied with diverse flora.
The frequently visited parts of the park, situated in the vicinity of residential areas, have a systematically designed network of jogging tracks, walkways with benches, and well-maintained grass.
Besides, Cycling, a Bowling Area, Laser Tag, Arcade Games, Tuck Shop, and a Small shopping area can also be found in the park.
The park also houses various desi and fast food outlets for visitors. The park is widely used for organizing sports and outdoor activities in Islamabad.
So, if you want to spend some quality time while enjoying the serene view of margalla hills, then this is the best place in Islamabad.
2. Lake View Park
This wonderfully designed park is located along the banks of Rawal Lake. Lake View Park is listed among the most popular and beautiful places in Islamabad. Lake View Park is one of the most beautiful water parks in Islamabad. Near this park you will also discover the best swimming pools in Islamabad.
Lake view park is one of the famous parks in Islamabad. It features camping grounds, boating facilities, horse riding facilities, play areas for children, a paintball battlefield, picnic areas, a rock climbing area, food kiosks, a festival arena, a bird aviary, and above all a beautiful view of margalla hills and Rawal Lake.
The beauty of the view is amplified by the chirping of birds housed in the bird aviary. The bird aviary houses a diverse collection of different bird species.
Given the immensity of the park, the Capital Development Authority has also provided the visitors with an option to ride a passenger train or golf cart to reach the lake from the entrance for ostensible charges.
Music festivals and other outdoor activities are also organized on the park premises.
In a section of Lake View Park, there is an amusement park named Laila Carnival Park. The carnival park has areas for kids and wildlife.  You will also see a café, VR rides, an ATV racing track, and token rides. This park offers different entertainment and rides options for adults and kids.
Like other Islamabad parks, there are numerous food stalls and eateries in the park to satisfy your aesthetics and taste buds at the same time.
3. F-1 Traxx
If you have a short time and want to visit more places, Lake View is the place to go. Opposite Lake View park, there is one of the famous amusement parks in Islamabad. F-1 Traxx, after massive success in Lahore, started serving in Islamabad.
The main attractions include the three distinct ATV tracks for different age groups and the two tracks for the battery-powered car ride.
Moreover, there are two different train tracks to enjoy train rides. In addition, you observe token rides and merry-go-rounds for children. There is also a café named Café Traxx ;one of the best café in Islamabad that serves you a variety of tasty foods and refreshing drinks.
4. Shakarparian National Park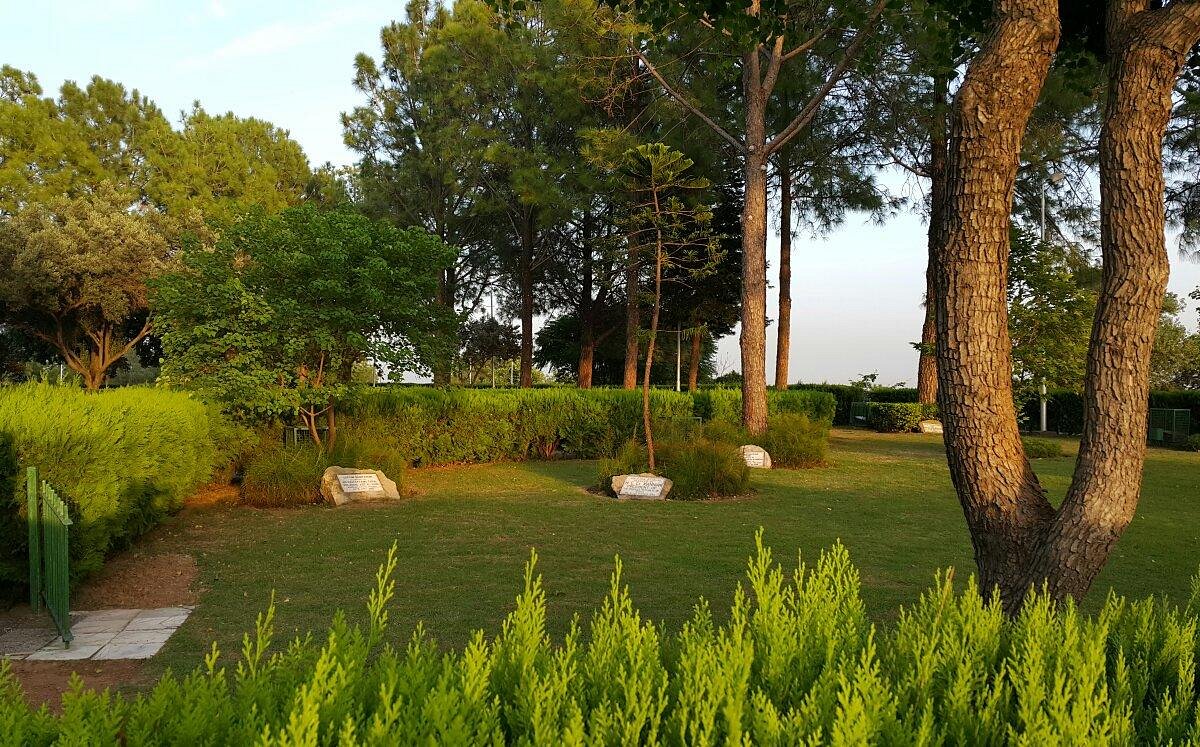 Shakarparian, a renowned name in Islamabad, is familiar to all old and young. Shakarparian National Park Islamabad is one of the oldest tourist attractions near the Zero Point interchange.
Pakistan monument and Lok Virsa Heritage Museum are also adjacent to the park. Which is considered as one of the famous museums in pakistan.
A unique feature of this park is its terraced garden, built at an altitude of 609 meters. The garden brimming with lovely flowers offers a marvelous panorama of the federal capital territory.
At night, the beauty of the view is magnified and captures the heart of the visitors. If you love night views and night photography, read this blog to learn more about places to visit in Islamabad at night.
You can find different cafes and restaurants in the park. Moreover, the popular Yogi Haus restaurant and 1969 Café are also situated in the neighborhood.
You will also find a separate section for visiting foreign dignitaries who plant a tree as a sign of goodwill. Last but not least, there is also a parade ground, known as the Shakar Parian parade ground, where the ceremony on 23rd March is held under civil and military authorities every year.
5. Japanese Children's Park
Japan and Pakistan have deep friendly ties. As a token of friendship, the Japanese people gifted Pakistanis this beautiful park.
The Japanese Children's park is located near Islamabad zoo and is a beautiful addition to the theme parks of Islamabad.  Situated in the foothills of Margalla, this park offers one of the best play areas for children in the city. Around Margalla hills, you can find best areas to invest in Islamabad.
What enhances the beauty of the view is the plantation of colorful trees similar to cherry blossoms. You can spend a beautiful day there or enjoy your evening walks on the walkways while keeping a check on your children. In this way, this park offers something for everyone.
Japanese Children's Park in Islamabad also offers a refreshment area where you can have snacks and drinks.
6. Rose and Jasmine Garden
The enchanting Rose and Jasmine Garden in Islamabad is among the top places to visit with family. The park has a fascinating display of roses and jasmine, as the name depicts. The atmosphere is captivating and calming at the same time. The view is a sight to behold, and the fragrant air leaves a calming effect on your mind.
The garden covers more than 40 hectares and is well-known among visitors because of its beautiful floral collection of more than 200 exotic rose varieties and a dozen fragrant jasmines.
The best time to visit the Rose and Jasmine Garden is during spring and early autumn when the flowers bloom. However, it remains one of the most popular picnic places in Islamabad throughout the year. Apart from beautiful flowers and picnic grounds, this botanical garden also has cycling and jogging tracks.
Some nearby restaurants include Ravi Restaurant, Nirvana Café, Subway, Royal Afghan Restaurant, and more. We encourage you to visit other restaurants in Islamabad, too as restaurants here have a different vibe.
7. Daman-e-Koh
It was established in 1980 and is Pakistan's third-largest national park, covering 17,386 hectares (42,960 acres). Tilla Charouni is the highest peak in the park. Daman-e-Koh and Pir Sohawa, two of the Park's renowned hill stations, attract many visitors yearly.
The park is home to various animals, including some endangered species, such as the gray goral, barking deer, and leopard. Margalla Hills National Park Islamabad has become a thriving habitat for endangered Common Asian Leopards.
There are many trails for hiking, including Trail 1, Trail 2, Trail 3, Trail 4, Trail 5, Trail 6, and Trail 7 (Shah Allah Dittah), with Trails 3 and 5 being the most popular. There are several rock climbing locations in the Margalla Hills.
The famed Monal restaurant, one of the top rated restaurants in Islamabad is also located in Margalla Hills. Here you can enjoy a variety of national and international cuisines and breathtaking views over Islamabad. Visitors to Islamabad from far and wide see the eatery as a must-stop on their itinerary.
This park offers you a picturesque cityscape. You can not only enjoy the view but also look at developing real estate projects. If you are interested in safe and secure investment, read this blog about Best Areas to invest in Islamabad.
8. Dino Valley
Dino Valley is one of the most popular theme parks in Islamabad. Located in the city's heart, Dino Valley offers visitors an opportunity to step back in time and experience the world of dinosaurs. As one of the most well-known theme parks in Islamabad, Dino Valley has become a favorite destination for families, school groups, and tourists from all over the country. In addition you can also find the best shopping malls in Islamabad.
The park features a wide range of attractions and exhibits designed to educate visitors about the world of dinosaurs. One of the main attractions at Dino Valley is the dinosaur exhibit, which features life-size animatronic dinosaurs that move and roar just like the real ones.
In addition to the dinosaur exhibits, Dino Valley also features a range of other attractions, including dinosaur rides, a flying dino, a drop-down tower, a 12D motion ride, and much more. Plenty of food and beverage options are available at the park, including a restaurant and several snack stands.
In short, Dino Valley is a great place to visit for anyone who loves dinosaurs or is looking for a fun day out with the family. As one of the top theme parks in Islamabad, it's a must-see destination for anyone visiting the city.
If you have any queries, let us know in the comments below.
Read more related blogs: